Each one of our San Francisco tours
explores the soul
of a neighborhood. San Francisco is one of the culinary capitals of the world and every block has its own unique feeling and foods. On every one of our sojourns into San Francisco neighborhoods, we'll go into local bakeries, restaurants, and cafes, and taste the food. We know these places because these are the places we go to ourselves.
We don't go and look at "tourist" shops. Our San Friancisco tours takes you into, to spend time with, local artisans as they practice their crafts, whether it is calligraphers, bakers, or families who have been fishing for generations.

Our San Francisco tours take you into the places that give local San Franciscans the reasons they never want to leave, the places that evoke the creativity and lifestyle that is unique to San Francisco.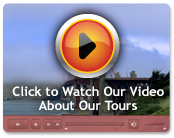 We have a passion for life, for trying new things, for living life to its fullest. Our goal is that after you join our San Francisco tours and explorations, you will take that same passion with you. After experiencing the real zeal of this place, we know you will. And not only will you leave your heart in San Francisco; you may find that you have left part of your soul here as well.
Local Tastes of the City San Francisco Tours is a group of passionate, professional, and certified guides with years of experience leading adventures in our San Francisco tours. We live here; we can't imagine living anywhere else. We love the City and want you to also experience its magic.
One of the founders, Tom Medin, has been guiding our San Francisco tours for close to a decade. In addition to extensive knowledge of San Francisco history, architecture and cuisine, he is a trained naturalist, specializing in marine mammals. Several of his cookbooks are in the process of publication.

Reservations & Costs
Please call us at (415) 665-0480 or (888) 358 TOUR (8687) to make reservations. If you prefer, use our secure online reservation option within each tour page.
We have tours every day. In addition to daytime hours, we can also be reached in the evening. We enjoy taking reservations by telephone, so we can customize your tour to your interests. You can also click here to reach us by e-mail.
Whether you join our tours by yourself or with friends or family, we ensure your enjoyment by keeping our tour sizes small. If your group is over 15 people, call us at (415) 665-0480 or (888) 358-8687 or send us an e-mail and we'll customize a tour for your group. Whether your group is 15, 50, or more, we'll make sure that you have an phenomenal time.
If you reserve online, our rates for the North Beach, Chinatown and Chinatown and North Beach by Night Tours are:
Adults - $59.00

Youths (12-16) - $39

Children with parent or guardian (8-11) - $15

Children under 8 with parent or guardian - No Charge
Please note, the above rates include the $10 discount.
We can accommodate same day reservations.
If you reserve your tour online, we'll e-mail or call you to confirm your reservation. Even though we can accommodate same-day reservations for our San Francisco tours, when we have spaces, since we keep our groups small, we would suggest reserving your San Francisco tour in advance. If your desired San Francisco tour has reached it's capacity, we can suggest another San Francisco tour time and date.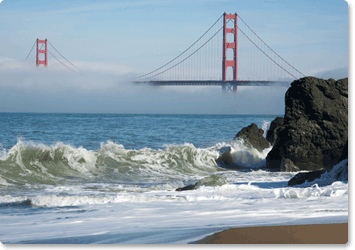 Proudly, our San Francisco tours were recently voted by visitors the "Best City Tour 2006 & 2007" as well as the Editorial Winner by Citysearch. We've also been complimented as a "MUST SEE" by the California
Travel & Tourism Commission.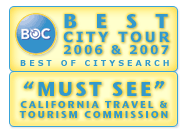 If you prefer to pay for your San Francisco tour when join us, instead of pre-payment, please call or e-mail us to make reservations.
Our tour costs include everything, from the tastings to the crafts, everything! We really suggest that you don't eat much before the tour. On each of our tours, you'll be tasting a wide variety of phenomenal food.
On the North Beach tour, you'll have everything from coffee drinks (lattes, cappuccinos, etc), chocolates, breads, olive oil tasting, specialty meats, pastries, and more. On the Chinatown or Night tours, you'll have everything from dim sum (at least five or six types), fortune cookies, teas, and more. Many of our guests are, to put it mildly, not hungry, and you're not going to know that until after the tour is over.

Changing or Canceling Reservations
Cancellations and changes to reservations must be made 48 hours prior to tour starting time to receive refund. Partially used tours are not eligible to refunds. Tours may require a minimum number of participants to avoid cancellation. We reserve the right to modify stops, visits or activities based on weather conditions, group needs or conditions out of our control.
Our daytime tours start at approximately 10:00am and 2:00pm. The night tour starts at 6:00pm.

Please call us at (415) 665-0480 or Toll Free in the U.S. at (888) 358-8687 for details on our San Francisco tours.